Many people across the world develop addictions to all kinds of things, whether that's Alcohol or Drugs, certain destructive behaviours like Gambling or even supposedly healthy behaviours like exercise when they become a compulsion. Recognising that you have a problem with addiction and seeking help is the first step on your road to recovery.
Going to rehab in Birmingham doesn't need to be scary or intimidating. We understand how it feels to be in your situation and with our support, you will find the best rehab clinic for your recovery.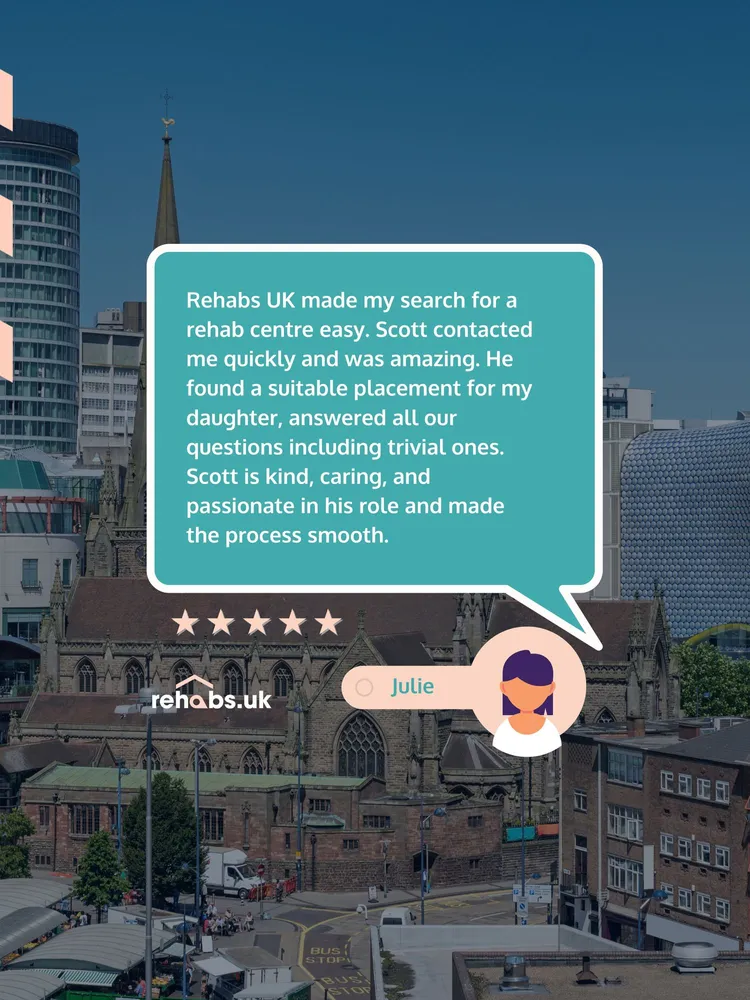 We partner with a range of rehab clinics in Birmingham, and each offers detox and counselling to help you on the path to becoming entirely abstinent from alcohol and drugs. Whichever rehab you attend you can expect compassion, understanding and a bespoke programme of treatment designed to suit your precise circumstances. Rehab clinics in Birmingham all offer residential care, meaning you live at the centre and have access to medical and psychiatric care as well as modern therapy techniques such as cognitive behavioural therapy and psychological therapies. Comfortable accommodation, relaxed settings and professional therapy and healthcare are all tailored to help you recover from your addiction. The length of your stay may vary but can average around 28 days.
Psychological Therapies
12 Step Programme
Cognitive Behavioural Therapy
Neuro-linguistic Programming
Short Term Detox
28 Day Treatments
what alcohol addiction services are there in Birmingham? AA - Birmingham Nechells
Sunday
St Vincents RC Church, Nechells Parkway, Francis St
Time: 19.00 - duration 1hr 30minsDistance: 0 miles Postcode: B7 4JY Nechells St Vincents
Friday
St Vincents RC Church, Francis St, Nechells
Time: 12.00 - duration 1hr 30minsDistance: 0 miles Postcode: B7 4JY NA - Birmingham
UK Farsi Groups Area Physical Sunday 17:00 ~ 18:30 Recovery Central, 9 Allcock Street Deritend Birmingham West Midlands B9 4DY
Al-anon -
Tuesday
19:30 - 21:00
The Salvation Army Citadel, St Chad's,
Queensway,
Birmingham,
West Midlands,
B4 6HH,
England.
If you are in an emergency relating to drugs or alcohol please call 999.
If you would like to get in contact with one of our treatment advisors please give us a call.
Other clinics close to Alcohol and Drug Rehab Clinics in Birmingham