If you or someone dear to you is grappling with substance abuse issues, it can be a daunting task to navigate the path to recovery. However, once you acknowledge the problem, the journey towards healing can commence, and reaching out to a nearby rehabilitation center might be the initial stride in that direction. Rest assured, rehab in Nottingham need not be an intimidating or fearful endeavor. We empathize with your situation and with our unwavering support, you'll discover the ideal rehabilitation clinic to pave the way for your recovery.
Whether you are contending with alcoholism, substance addiction, or a behavioral disorder such as an eating disorder or gambling addiction, it's imperative to find the right assistance within your Nottingham community. Rehab UK is dedicated to bridging the gap, connecting you with the most suitable rehabilitation center tailored to your specific needs.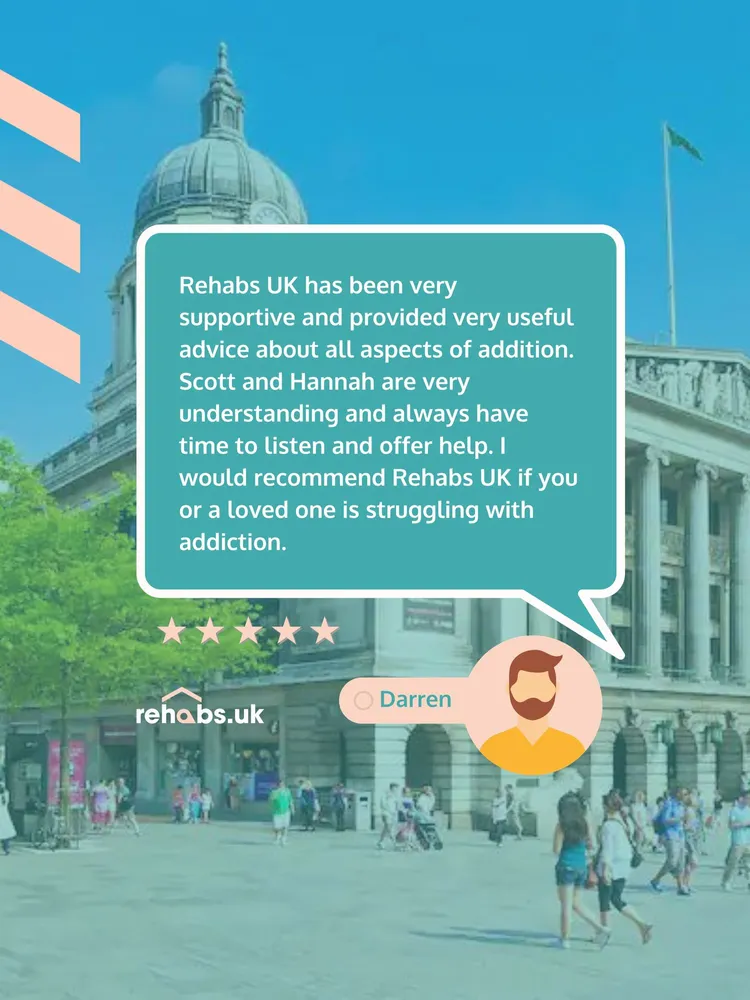 We collaborate with a diverse range of rehabilitation centres in Nottingham, each providing a spectrum of treatment options to facilitate your detoxification and recovery journey. These options range from extended residential programs lasting for a month to rehabilitation programs integrated into your daily life. Regardless of the rehab facility you choose, you can anticipate receiving a warm and empathetic approach, along with a personalized treatment plan finely tuned to align with your specific circumstances.
Residential clinics in Nottingham offer a live-in rehabilitation experience, where you reside at the centre and have access to comprehensive medical and psychiatric care, coupled with contemporary therapeutic techniques like cognitive behavioural therapy and psychological therapies. Every aspect of your daily life, from dietary choices to structured activities, is meticulously tailored to support your recovery from addiction. The duration of this rehabilitation can vary, but it typically spans around 28 days.
Alternatively, non-residential addiction treatment in Nottingham places a strong emphasis on group dynamics alongside individual therapy sessions, making it an inclusive and inviting option for those seeking rehabilitation.
•Psychological Therapies
•12 Step Programme
•Cognitive Behavioural Therapy
•Person-centred therapy
•Neuro-linguistic Programming
•Short Term Detox
•28 Day Treatments
•Intervention strategies
•Aftercare
What alcohol addiction services are there in Nottingham?
AA -
Saturday
St Barnabus Cathedral Hall, off Derby Rd
Time: 19.30 Postcode: NG1 5AE Monday
International Community Centre, 61b Mansfield Rd
Time: 19.30 - duration 1hr 30mins Postcode: NG1 3FN
NA - Saturday McGuinness Room, St Barnabas Cathedral Nottingham, North Circus Street, Nottingham, Nottinghamshire, NG1 5AE Time: 16:30 ~ 18:00 Postcode: NG1 5AE Thursday Double Impact Services, 18-19 St John Street, Mansfield, Nottinghamshire, NG18 1QJ Time: 19:30 ~ 21:00 Postcode: NG18 1QJ
Al-anon - Thursday
17:00 - 18:00
Address:
Methodist Church,
Musters Road,
West Bridgford, Nottingham,
Nottinghamshire,
NG2 7PQ,
England. If you are in an emergency relating to monkey dust please call 999.
If you would like to get in contact with one of our treatment advisors please give us a call.