If you or someone you love is struggling from drug or alcohol addiction it can be hard to know where to begin to seek help. Once the problem has been recognised though, the healing can begin and getting in touch with a local rehab centre could be the first step on the road to recovery. Rehab in Liverpool doesn't need to be scary or intimidating. We understand how it feels to be in your situation and with our support, you will find the best rehab clinic for your recovery.
Whether you struggle with alcoholism, drug addiction or a behavioural addiction such as an eating disorder or gambling addiction, finding the right help in your local area of Liverpool is crucial. Rehab UK will help to connect you to the right rehab to meet your unique needs.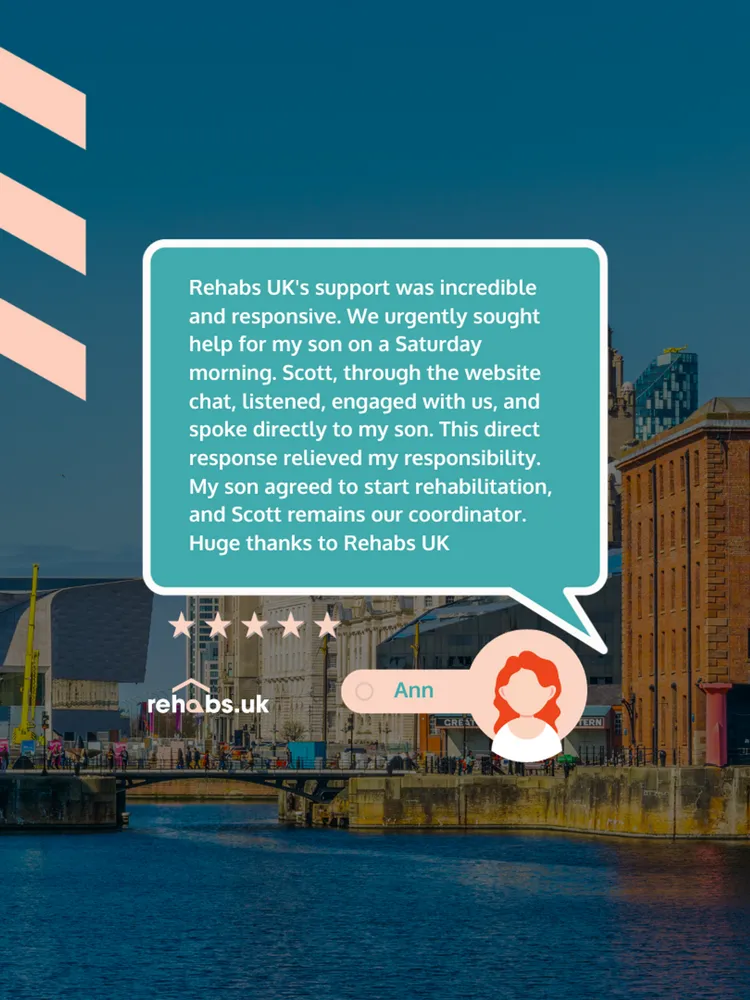 We have established partnerships with a diverse range of rehabilitation centers in the Liverpool and Merseyside region, each offering a wide array of treatments tailored to assist you in your detoxification and recovery journey. Regardless of the specific rehabilitation centre you choose, you can anticipate receiving unwavering compassion, deep understanding, and a customized treatment program meticulously crafted to address your unique circumstances.
Rehabilitation facilities in the Liverpool and Merseyside area provide residential care, meaning you reside within the centre's premises, granting you access to comprehensive medical and psychiatric support, as well as contemporary therapeutic modalities like cognitive-behavioural therapy and psychological therapies. Every aspect of your daily life, from dietary choices to the structure of your day, is carefully designed to facilitate your recovery from addiction. The duration of treatment can vary, ranging from as short as seven days to as long as 12 weeks, all accompanied by continuous support to help you stay on the path to recovery.
Psychological Therapies
12 Step Programme
Cognitive Behavioural Therapy
Neuro-linguistic Programming
Short Term Detox
28 Day Treatments
What alcohol addiction services are there in Liverpool?
AA - St Anne's Big Book & Step
Town/City: Liverpool
Wednesday 389 Aigburth Rd (opposite Dundonald Rd), Aigburth Time: 19.30 - duration 1hr 15mins Postcode: L17 6BH
NA - Thursday 12:00 ~ 13:30 Holy Name RC Church Moss Pits Lane Fazakerly Liverpool MerseysideL10 9LG
Al-anon - Friday
10:30-12:00
Address:
Change Grow Live Bootle ,
2 Bridle Way ,
Liverpool,
L30 4UA,
England. If you are in an emergency relating to drugs or alcohol please call 999.
If you would like to get in contact with one of our treatment advisors please give us a call.